Elegant Style Edit Ideas for Christmas and Other Parties
More often than not, when dressing up for a party, we tend to pay more attention to what dress or shoes we wear over what a hat can add to our dressing. We should be giving them the same level of attention. Happily, one of the ways that women tried to adapt to nature is by using hats as a means of fashion. Owning a nicely designed hat in your wardrobe is a must because it is a classic and timeless sartorial piece that adds an edge of practicality and sophistication to a glamourous get-up.
The Perfect hat for a Wedding Party
One thing to remember when you have to dress for wedding party is the elegance of consideration, an important note is that this is not about you. The main goal is to dress up appropriately without looking over the top. So, it is obvious to better choose soft and clean colours and non-loud prints. The Pearl beaded cocktail hat with silk bow fastening to give this unique hat a magnificent final flourish designed by Haidee Neill is a perfect hat to embellish the combinations of all subtle and white pieces. This hat would instantly make you look elegant and yet very fashionable without looking too much. We also have top picks for this type occasions as follows.
An Elegant Dinner Party
Going to a dinner party would keep you thinking to look at your best while being comfortable to move around during this occasion. If you are in the mood to have fun styling and bold theme, do not hesitate to mix and match your colour palette. The lightweight red hat, Red and Black Pillbox Hat by Marvellous Millinery will definitely complement the mustard frilled dress and complete with small jewellery and your chunky heels as we talk about comfort before. Another hat colour suits this evening look:
A Fun Outdoor Party
Outdoor party could mean hours spent in the sun and wind which means it is essential to wear a hat. If you're out of ideas to find unique hat for this occasion, you might need what we suggest to go along with a midi dress as shown on the picture. The Baker boy hat is absolutely suitable to complete the whole look as well as a match with the jacket. What makes this ivory beret unique is the details of net tulle. Nonetheless, this hat is versatile and you don't have to worry to style it with any outfits and seasons. To make sure you do not miss any trendy hat for an outdoor party, we have some other alternatives below.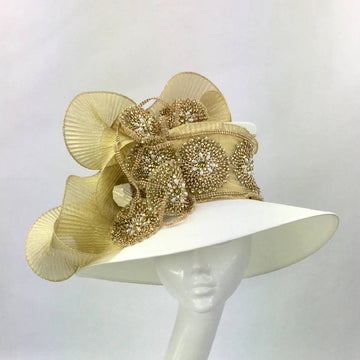 We will be back with more fun and innovative style edit ideas next week. So, stay tuned you beautiful hat lovers!
Love,
The Hat Circle Team